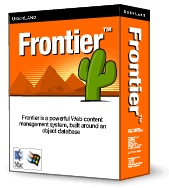 The OPML Editor is a full distribution of Frontier.

It's a fork I started in 2005. I wanted to make improvements to the environment without the intense discussions that were taking place on the kernel mail list.

I've done a lot of work since then, fixing bugs, rewriting modules that needed rewriting, and adding lots of new capabilities and connections to web services, like Amazon, Twitter, Flickr, OAuth. There's JSON parser. The RSS support is much deeper and simpler. Etc.

There are a bunch of new apps, including Radio2 which is a linkblogging tool, River2 which is a river-of-news aggregator and World Outline which is a new content management system built around outlining. (The site you're reading right now is a worldoutline-managed site.)

This site points you to places to look for new stuff.

PS: This is a work in progress. So the lists aren't complete. Working on it! :-)